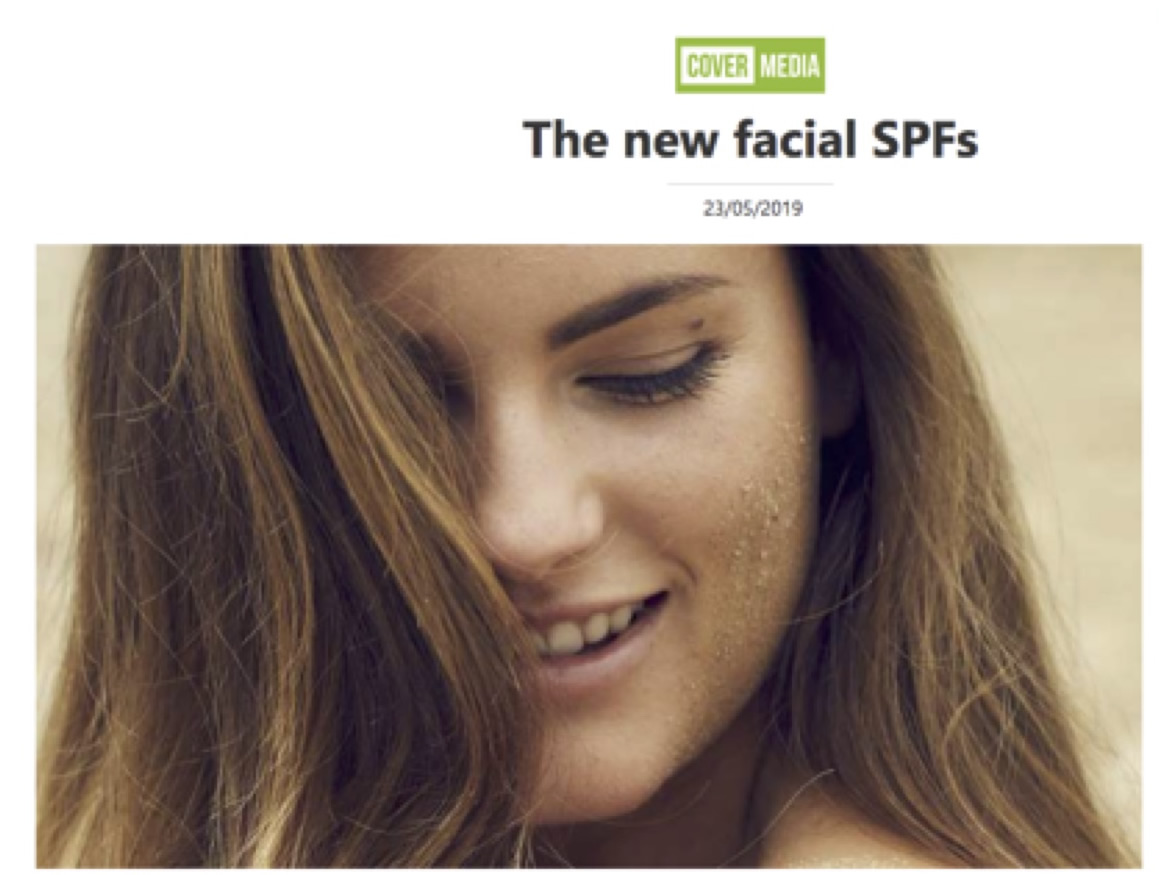 20 Nov

The new facial SPFs

If you've been paying attention to the beauty rules, you'll know wearing SPF isn't just for summer.

As well as protecting your skin from harmful UV rays, facial SPF sunscreens are one of the main protections against premature ageing and should be worn all year round as the last step in your skincare routine.

"Sunscreen is the best and cheapest anti-ageing product you can use and has been clinically proven to slow down the effects of ageing of the skin," Dr. Susan Mayou, consultant dermatologist at the Cadogan Clinic (cadoganclinic.com), tells us. "Moisturiser or cosmetics with SPF are better than without SPF but not as good at protecting against UV rays as a sunscreen of the same SPF – it is like tea with sugar versus the sugar alone!

"What's more, sunscreen helps protect some of the vital proteins found in your skin, such as collagen, which keep the skin elasticated and smooth," adds Isa Iavahun, digital brand manager at Cosmetify (Cosmetify.com), who recommends Ecooking Sunscreen SPF30.

The new facial SPFs are designed to be worn under your make-up and combine sun protection with anti-ageing skincare with quality ingredients. And with better formulations, they won't leave darker skintones – which need protection too – looking grey.

"Apply sunscreen which is at least SPF 30. People with pale skin and children should use an SPF 50 to ensure ultimate protection," advises Dr. Mayou.

Murad City Skin Age Defence SPF 50 is a 100 per cent mineral sunscreen that's super light and absorbs instantly. It's also great if you're a heavy tech user as ingredient lutein protects the skin from harmful blue light. Another way to get your daily SPF dose is via luxury brand Chantecaille's Ultra Sun Protection SPF 45 PA ++ Anti-Glycation Primer, which is pricey, but it includes cutting edge skincare including carnosine to prevent the breakdown of the skin's collagen.

Korres' Red Grape Tinted Sunscreen Face Cream SPF50 is the ultimate year-round shield and will target wrinkles, dark spots and dehydrated skin.

If you have sensitive skin, Kimberly Sayer's Anti-Oxidant Daily Moisturising Cream SPF 30 contains cold pressed Borage Oil for plenty of anti-ageing benefits and will give you a broad spectrum of protection from UVA and UVB without irritating the most sensitive of skins. While This Works' In Transit Skin Defence SPF 30 leaves a really velvety finish, perfect ahead of make-up application.

For dehydrated complexions, Paula's Choice Resist Anti-Aging Moisturiser SPF 50 is a lightweight way to protect skin and add much-needed hydration.

If you're not wearing sunscreen daily, Glossier's Invisible Shield SPF 30 is a great way in. It's a clear gel that disappears into the skin with no greasy residue.

Sunscreen is just as important for darker complexions and can even help with hyperpigmentation issues. Not wearing sunscreen after applying products to tackle discoloration will most likely cancel out their effects, and may in some cases make things worse. Both Ultrasun's Face Anti-Age & Anti-Pigmentation SPF 50+ and BeautyBio's The Protector Daily Defense Cream SPF 30 contain vitamins to help even out your skintone.

If you want regular SPF top-ups on top of your make-up, Pixi's Sun Mist is a featherweight mist you can spritz every couple of hours without your make-up shifting. So, protect your face, ears and neck!